The Wanless Recycling Park is a proposed resource recovery and recycling precinct at Ebenezer, about 12 km southwest of Ipswich CBD in Queensland.
Wanless plans to construct and operate an innovative resource recovery hub that will continue to evolve as new technologies emerge. The company's vision is to transform this degraded site into a productive precinct that generates employment and training opportunities for the local community. This is a model they have tried and tested at Sydney Recycling Park , where up to 80% of waste is now diverted from landfill.
With recycling and resource recovery and reuse at the forefront of its operations, Wanless Recycling Park will accept waste from businesses and areas where it knows it can recover the most recyclable material. This will include household, commercial and industrial, and demolition and construction waste. The integrated facility will also include a landfill element for residual waste.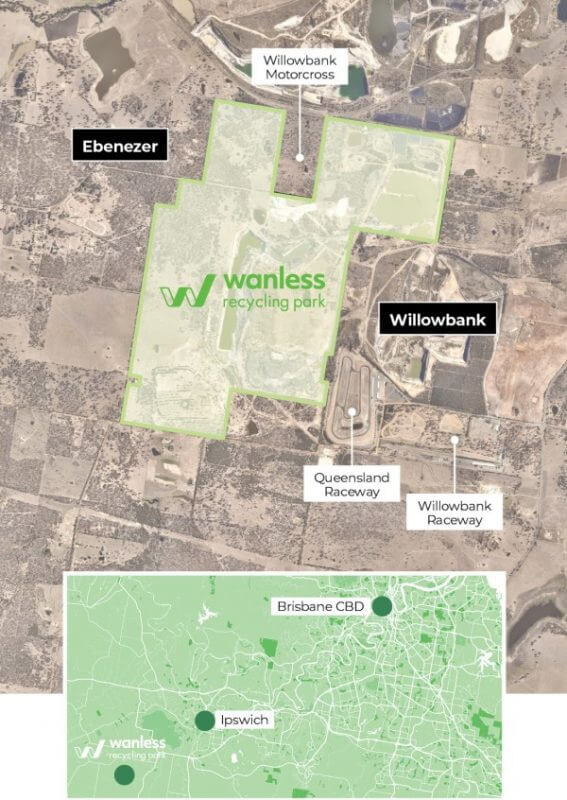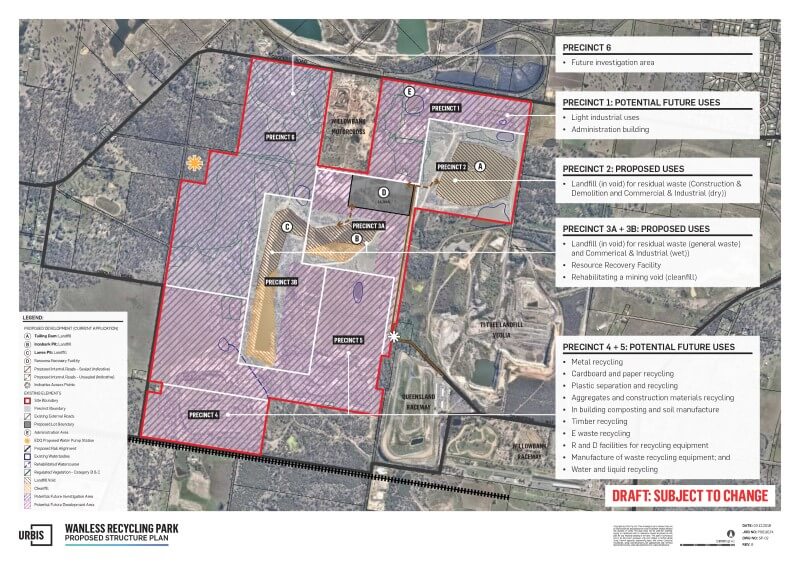 The Current Development Application
Before Wanless can build the recycling park, it must be approved by Ipswich City Council. Wanless Recycling Park's current Development Application is for a development permit for:
Material Change of Use (MCU) for a Waste Activity Use (Landfill & Rehabilitating a Mining Void) and Special Industry (Waste Transfer and Resource Recovery); and
Reconfiguration of a Lot (RoL) for a Boundary Realignment (21 into 21 Lots).
The application will also include an application for an Environmental Authority for Environmentally Relevant Activities (ERAs) 54, 60 and 62, which specifically relate to Waste Management .
* See below for further information regarding these terms.
The proposed development encompasses the following facilities.
Resource Recovery Facility
Resource Recovery Facility for Construction and Demolition, Commercial and Industrial and General Waste – to recover dry materials such as timber, paper, cardboard, metals, aggregates, soils, bricks, green waste and concrete rubble, plastics, fabrics (these processes involve physical processes only and do not involve any chemical processes).
The resource recovery processes to include shredding, screening, magnetic and eddy current separation, optical sorting, hand picking, and air classification, crushing and baling.
Landfill
The residual waste will be put into the landfill voids and will be isolated from groundwater by a synthetic barrier.
Landfill Gas Recovery will be undertaken. Gas collected will be used for onsite power generation.
The development application was lodged with Ipswich City Council in December 2019 and it is currently part way through the development assessment process.
Key Changes made to the Application since lodgement
When proposals are submitted to Council it is expected that some changes may occur through the assessment process in response to questions raised by Council and State Government. The following key changes have been made to the proposal since the application was originally lodged:
Height:
Overall reduction to the maximum landfill height by 9m within the Ironbank and Lane's Pit voids
Waste Streams
Changes to the waste types to be received at the site to further promote resource recovery and recycling of the incoming waste streams
Increase in the resource recovery rate from an overall rate of 35% to 45%
Access
Further investigations into a range of site access options which have confirmed Champions Way is considered the only viable site access arrangement
Redesign of the access from Champions Way to maintain the existing flow of water during flood events external to the site
Identification of strategies to be considered in relation to traffic management during events at the Motorsports Precinct
Wanless invites you to review the technical reports published via Council's website and are available at
Development Application Status
The development application for Wanless Recycling park was submitted to Ipswich City Council in December 2019. Since this time, the formal information request stage has commenced, which is intended to allow Council and State Government to ask for further details regarding the proposed development. A request for additional information was issued by Ipswich City Council and the State Government in early 2020 and Wanless provided a response to both requests on 27 April 2020.
A copy of the development application, information requests and information request responses (application number 10674/2019) can be found through the City of Ipswich Council PD Online at the following link
If it is your first visit, accept the terms and conditions and continue to the next page.
Select 'Application Enquiry', then enter the application number 10674/2019 into the appropriate boxes on the first line and press 'Search'. No other information is required.
Working with the community
Wanless has been engaging with stakeholder groups and interested residents to provide preliminary information on the proposal. This will also help Wanless consider community interests about the proposed development.
Pre-lodgement Community Sessions (now completed)
Drop-in community information sessions were held on 5 and 7 December 2019. Representatives from Wanless and key consultants were available to discuss the proposed development. The information boards used at the sessions can be found here .*
Public Notification (current)
Now that Wanless Recycling Park has responded to all the requests for additional information, the development application moves into the public notification period of the assessment. The application will commence public notification on 14 th May 2020 and the closing date for submissions is 5 th June 2020 . During this stage, local residents and members of the Ipswich community can submit feedback on the proposal directly to Council for consideration in their decision-making process. Wanless invites the community to provide feedback directly to Council to be considered.
During the current climate with social distancing restrictions of COVID-19, unfortunately there will not be an opportunity to hold additional community information sessions during the public notification period. We encourage community members to contact us with any queries about the application via the email below.
Newsletters
To keep the community updated on the development application, a series of newsletters have been published and distributed within the local community. The newsletters can be found via the below hyperlinks:
Newsletter 1 – December 2019
Newsletter 2 – January 2020
Newsletter 3 – May 2020
Newsletter 4 – August 2020
Newsletter 5 – November 2020
We welcome feedback from the community about this proposed development. Please direct your comments to [email protected].
For the latest recycling and news updates, check out our News page.
What is the time frame for this project?
The timing of construction and operations is subject to change and is directly influenced by approval periods and market demands. If approved by the Ipswich City Council, construction is scheduled to start in 2021, with operation expected to start during FY 2022/2023.