Solutions for any size of business
Save money with an efficient recycling program
Every kilogram of paper products diverted from landfill saves your business money.
Range of bins to suit any location inside & outside
From 120lt mobile bins to 4.5cubic metres, we have a size to suit your business needs.
Mobile bins that move around the office or site
Our smaller wheely bins can be positioned in virtually any location with ease.

The Wanless way of reaching paper & cardboard sustainability
Recycling is at the core of Wanless operations as we operate our own Resource Recovery Alliance in Kemps Creek, NSW. Wanless and its employees ensure recycling is front of mind in everything it does. We have set goals to ensure we improve our environmental performance and resource recovery.
This includes recovering paper and cardboard from waste disposed of in our recycling park and in our collections business nationally, where waste from Wanless and its customers is recycled into new boxes locally in Australia.
To "Create a better future" we must all understand the role we play in recycling at work ‒ especially as businesses want to improve their financial and environmental performance. By diverting precious materials like paper and cardboard from landfill, your business can save money (as cardboard is a commodity of value) as well as playing a role in saving the environment. The more we recycle, the less we rely on virgin materials.
Providing a paper or cardboard service as part of a total waste solution is simple, cost-effective and allows your business to improve its environmental performance.
Paper and Cardboard Recycling Services
Small to medium recycling needs
Cardboard boxes come in all sizes depending on your industry, what you order into your business or produce as a manufacturer.
For smaller volumes, rear lift services in mobile garbage bins (MGB) 240lt-1100lt are the perfect choice, especially in office environments or for cleaners to mobilise around your premises.
Mobile garbage bins can be filled inside an office, easily fit next to photocopiers or in store rooms and can be easily wheeled out to the collection point.
They are ideal in laneways and loading docks where access is limited, and can even ‒ where allowed by your local council ‒ be left on the kerb for collection.
Due to the size of the bins we recommend you flatten all boxes and check regularly for any contamination to be removed prior to collection.
120lt
240lt
660lt
1100lt
Large volume paper & card recycling
For those customers producing higher volumes of materials with space onsite for larger containers, we have a range of front-lift services with equipment ranging from 1.5 to 4.5 cubic metres dependent on how cardboard you produce on a regular basis.
Front lift bins can recycle 50kg to 225kg of cardboard when carefully loaded by staff.
Flattening cardboard boxes maximises space in the bins, as well as your business' recycling volumes.
Every kilogram of cardboard diverted from landfill saves your business money as there is no disposal cost to recycling.
Front lift bins can be fitted with wheels, brakes, padlocks and chains.
1.5m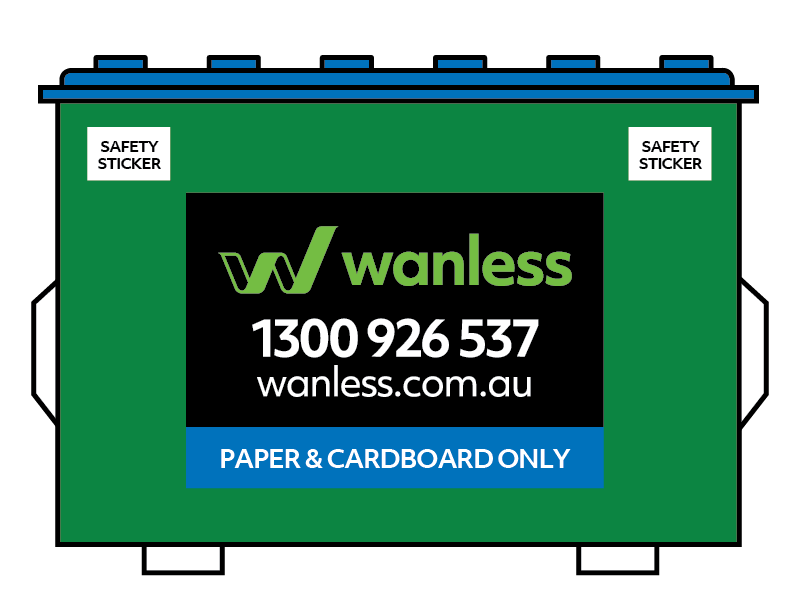 3.0m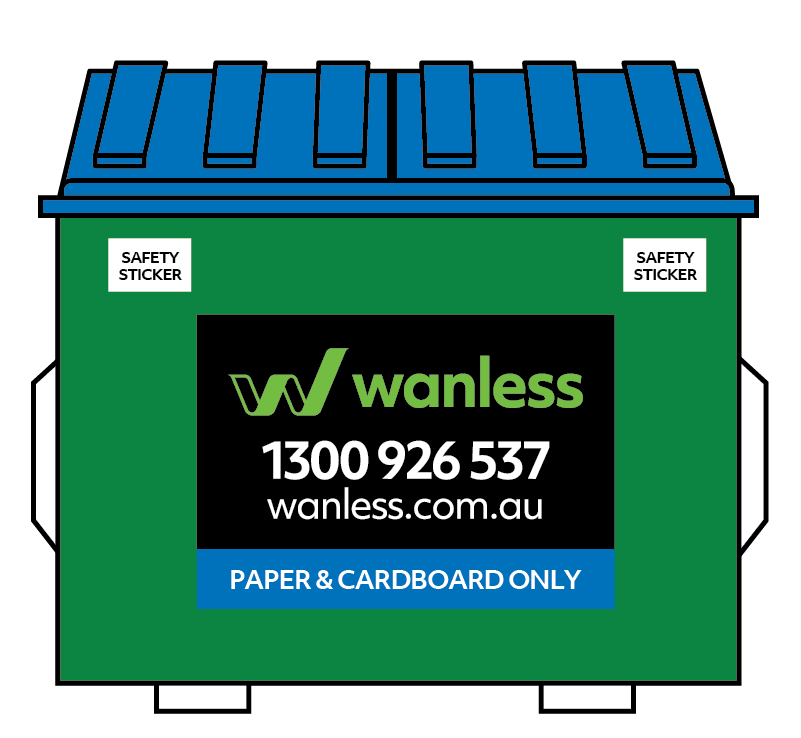 4.5m
For large bulk volumes of cardboard on a permanent or ad-hoc basis, Wanless can provide customers with hook lift bins varying from 12 to 31 cubic metres as well as specialised equipment such as balers and compactors. We also negotiate any available rebates, so you may financially benefit from recycling ‒ recycling pays!
Compacting cardboard minimises air gaps in standard bins and reduces the collections required to your site, meaning we can collect larger volumes in tonnes and maximise rebates.
Wanless staff can perform a waste assessment on your business and advise you on the best way to collect and transport your recycling. We also report monthly to our major customers so they can measure their environmental performance and results. Start saving today.
Bulk bins sizes ranging from 12 – 31m 3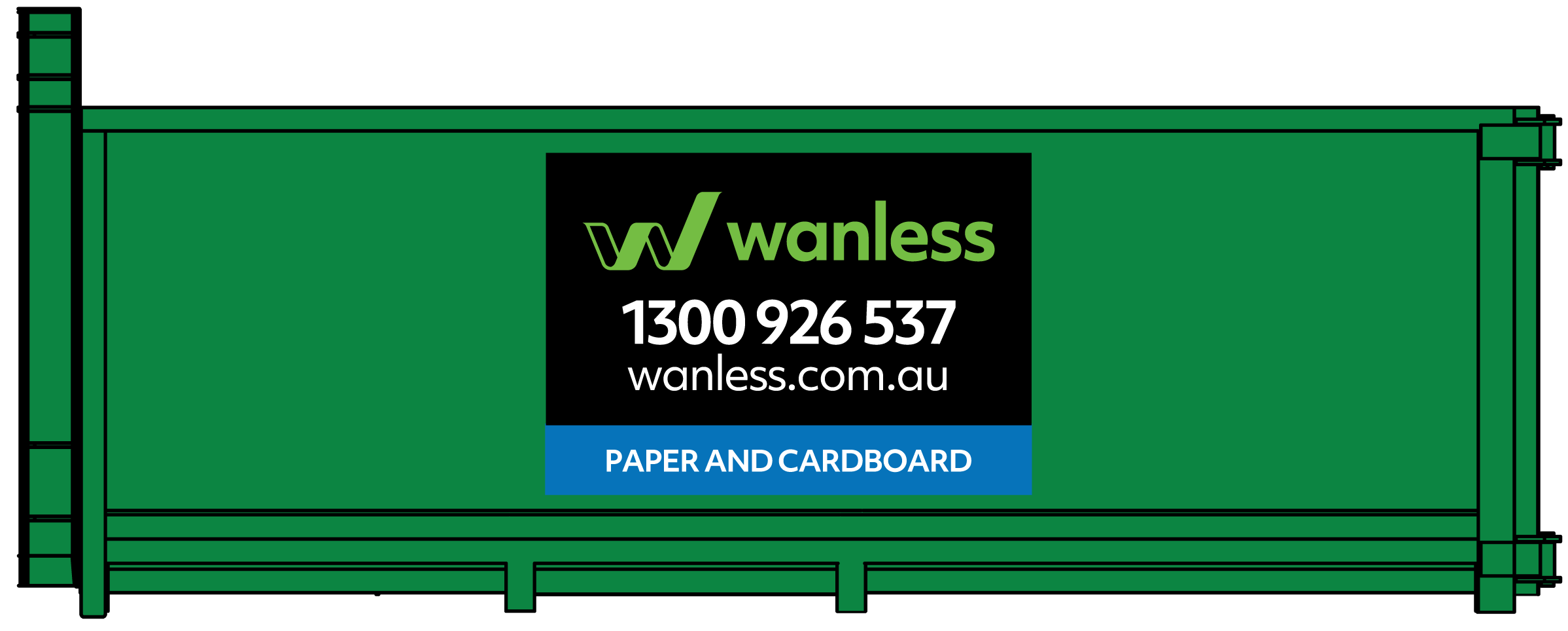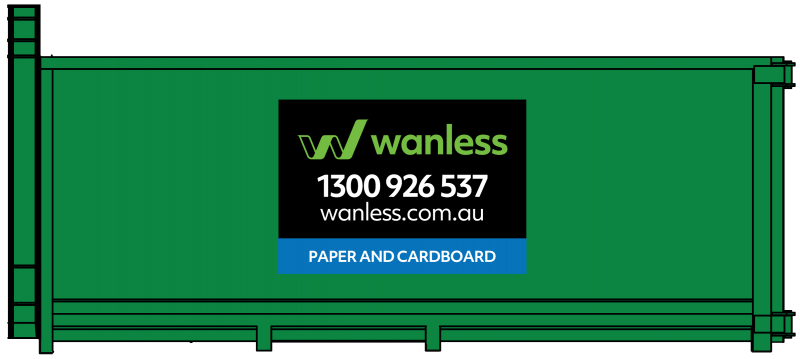 What can go in your paper recycling bin?
The following items are acceptable:
White paper
Cardboard boxes
Newspaper
Magazines
Manila folders
Envelopes (no windows)
Coloured paper
Phone books
What can't go in your paper recycling bin?
The following items are unacceptable:
Tissue or carbon paper
Waxed cardboard
Plastic or plastic bagged items
General rubbish
Cardboard with food residues
Asbestos
Flammable waste
Prescribed, liquid or hazardous waste

Recycling 1 tonne of paper saves 13 trees, protecting our natural environment.

Did you know Australian homes and businesses purchase approx. 2.4 million tonnes of paper per year?

The paper recycling process uses 50% less energy and 90% less water than the production of virgin paper.

Recycling one tonne of paper helps save 1438 litres of oil or 4000 kilowatts of energy.

Recycling is better for the environment so choose recyclable paper when you next purchase paper.
Waste management doesn't have to be a burden to your business.
Create real transformation with a Wanless refuse, reduce, reuse, recycle waste management plan
CONTACT US TODAY
Stay up to date with our latest news and events