Servicing Northern Sydney and surrounds
Our northern Sydney location serves customers in the greater metropolitan Sydney area.
Whether you're in the inner west, call the Shire home or regularly commute Pacific Highway or Stadium Australia, and the booming western business district of Parramatta, we can provide a holistic waste management services for businesses small or large.
Getting here
Southbound, the A38 will pretty much get you to our doorstep – just turn left onto Hotham Parade, right onto Clarendon St and left at the 2nd cross street onto Whiting St.
Northbound, get yourself over the Harbour Bridge and follow the M1 to Reserve Rd in Artarmon. Use the middle lane to take the Pacific Hwy/A1 exit towards Chatswood/Newcastle, then turn left onto Reserve Rd. Then it's a right on Dickson Ave, right again on Clarendon, and right onto Whiting, and you're here!

Sydney CBD 10 KM

Hornsby 20 KM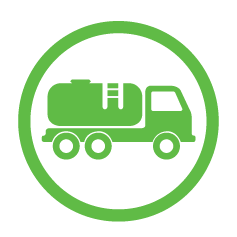 Randwick 15 KM
Got stuff to do in Artarmon, Lane Cove or Chatswood? No problem. Here are our favourite Northern Sydney places to grab lunch (recyclable packaging only, naturally).
Taipei Chef
We love the smoked chicken and the "three-cup chicken", a sizzling pot of tender meat that's become sticky from a slow infusion with soy, vinegar, rice wine, sugar, ginger and basil. So yum. Speaking of… brb.
Greenhouse Asian Salads
When the weekend's indulging was a bit excessive, Greenhouse #1 salad is what we go for: a bowl of green-tea noodles, avocado, cucumber, super-thin radish, cherry tomatoes, plus fresh mint and cashew nuts. Chicken and a creamy sweet-coconut and black-sesame dressing mean it's good for us without feeling like it is.
Flower Child Chatswood
If it's a bigger start to the day we're craving, Flower Child is where we go – the French toast is a favourite, as are the burgers and sandwiches. Pastries, bread and coffee (including cold drip and pour-over) are by The Grounds.
Stay up to date with our latest news and events