Industry solutions for small & medium sized customers
Wanless operates a large fleet of rear lift collection vehicles across its Australian operations, providing our customers with a range of reliable service solutions for commercial and Industrial waste. With safety at the forefront of everything we do, rear lift services are ideal for any sized businesses who seek:
A smaller bin option where space is a premium for the customer or the location of the bin is separate to the collections area
A service solution for low entry or inner city back lane ways, as rear lift trucks are more compact in size
Larger businesses where they require multiple bins for swap over; for example shopping centres, factories and warehouses
Flexible service options based on their businesses waste and recycling volumes
A standard approach to all waste and recycling streams that encourages positive recycling outcomes.
Rear lift collections are performed often where bins are left for collection with the driver wheeling bins to the "rear" of the vehicle, where the bin is placed on a hydraulic comb that weigh the bin, emptying waste into the back of the vehicle where its compacted into the vehicle body. Once the vehicle is full it is transported for disposal at a local landfill or recycling facility.
All Wanless Vehicles are connected to our Wanless Integrated Vehicle System that includes scales for weighing our collections. In real time we know where our vehicles are to optimise service delivery and performance and can easily react to customer demands, especially in an emergency where you may need an additional collection. All Wanless vehicles are fitted with reversing lights, camera's and beepers so we can perform our collections safely, with lights and sounds creating awareness of our vehicle to those in close proximity as YOUR safety is OUR safety.
Bin Specifications

120 litre
0.48m(l) x 0.55m(d) x 0.925m(h)
240 litre
0.58m(l) x 0.74m(d) x 1.08m(h)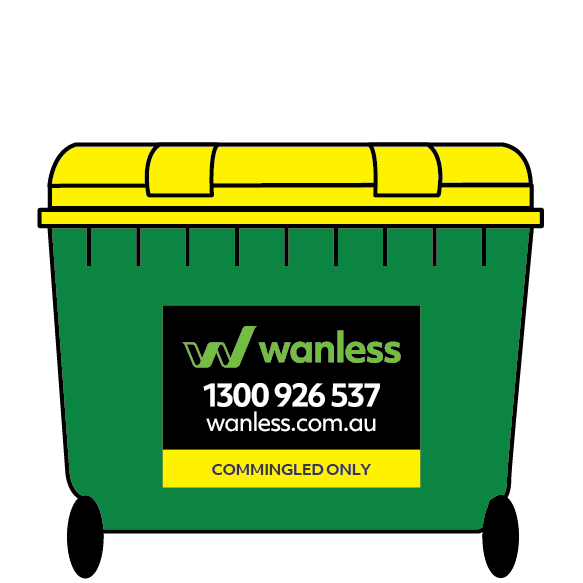 660 litre
1.34m(l) x 0.64m(d) x 1.22m(h)
1,100 litre
1.36m(l) x 1.28m(d) x 1.465m(h)
Benefits of a Wanless Rear lift Service
Large Range
Wanless supplies customers with multiple bin sizes to suit your businesses waste and recycling volumes. We consider what you produce, how its collected, storage space and lastly collections capabilities onsite. Our range of bins includes 120lt, 240lt, 660lt & 1100lt bins sizes.
Flexible
Wanless is flexible when it comes to your service schedules, providing collections around your businesses requirements. With our integrated services model we have multiple collections options if your business requires time sensitive solutions.
Young Fleet
Wanless through its national expansion has invested heavily in new fleet. Having a younger fleet provides a more reliable service outcome allowing Wanless to meet the service needs of our customers.
Multi-Option
Wanless offers a large range of services including; general waste, paper & cardboard, commingle, soft plastic and organics in rear lift bins. Customers can enjoy the flexibility of rotating bins to use for internal collection at the source, being charged only on qty presented.
Safety with and around equipment
At Wanless the safety of our customers and employees when handling our equipment is our highest priority that's why we ask you take note of the following at all times:​
Don't overload bins, keep all waste lid level as this can cause unnecessary littering and additional pest issues​
Bag all general waste so it's secure, and keep the lids closed at all times to minimise odours​
Ensure all recyclables are removed from bags; check and remove any contamination​
No Liquids, aerosols, flammables, asbestos or hazardous wastes is accepted​
Wanless recommends a regular bin cleaning schedule and can organise this for your business​
ALL Wanless safety is our first priority, so please be aware around service vehicles and bins. After all, YOUR safety is OUR safety. A Wanless representative is happy to call your business should you have any questions around safety and our services
Bin cleaning
We understand that maintaining your back of house or external docks to a high level of presentation and hygiene is important as those parts of your may be visible to the public, part of a certification where hygiene standards are regulated as well as providing wellbeing to those using the bins within your facility.  So that standards can be upheld reducing offensive odours, pests and discomfort by end users  Wanless offers its customers scheduled or unscheduled bin and compactor cleaning as part of The Wanless Total Waste Management Solution. To ensure Wanless bins are maintained to hygiene standards, they are cleaned inside and out with a citrus-based degreaser, and rinsed and sanitised with an odour control spray to assist with odour control long after the service.  As Wanless is concerned with protecting the environment, through our integrated services model we partner with bin cleaning companies in each state taking into consideration chemical and water usage when cleaning is conducted on the clients premises or our own Wanless depots.
Wanless can offer bin cleaning for rear lift, front lift, hook lift and compactors. All prices are on application
Retail
Ideal for shopping precincts as can be placed in back rooms for internal use and wheeled to the loading dock for collection.
Commercial offices
Rear lift bins are great for assisting staff to separate waste in your tenancy, staff rooms or the loading bay. They are also light and easy for cleaning staff to move around the facilities.
Warehouses
Some businesses require bins at the source of waste production to allow staff to remain highly productive whilst disposing of waste & recycling. Rear lift bins are compact for warehouses and easy to move around.
Manufacturing
Rear lift bins are easy to clean and sanitise making them ideal to use in manufacturing. Bins can be placed in production at the source of waste generation to be exchanged by staff during shifts when full.
Small businesses
For small businesses that produce smaller volumes of waste, rear lift bins are recommended. Wanless can match the right sized bins and collection frequency to your businesses waste or recycling requirements
Waste management doesn't have to be a burden to your business.
Create real transformation with a Wanless refuse, reduce, reuse, recycle waste management plan
CONTACT US TODAY
Stay up to date with our latest news and events