Bulk bin collections & compactors
Wanless operates a large fleet of bulk bin collection vehicles across its Australian operations, providing our customers with a range of reliable service solutions for commercial and industrial waste. With safety at the forefront of everything we do, hook-lift services are ideal for businesses of any size who seek:
To remove larger volumes of waste and recycling
A regular scheduled service or more flexible service options, your business is in control
To compact waste or recycling into specialised equipment due to high volumes
Multiple services or bins onsite for more bulky items like timber, steel, recycling bales or electronic waste
An ad hoc clean up of hard rubbish from their premises
Bulk bin and compactor collections are performed where the bin is lifted onto the rear of the truck by a "hydraulic hook" and locked into place for transport for disposal at a local landfill or recycling facility where it is weighed for charging. All Wanless Vehicles are connected to our Wanless Integrated Vehicle System, which includes scales for weighing our collections. Real time location data lets us know where our vehicles are, so we can optimise service delivery and performance and can easily react to customer demands – especially in an emergency where you may need an additional collection.
All Wanless vehicles are fitted with reversing lights, cameras and beepers so we can perform our collections safely, with lights and sounds creating awareness of our vehicle to those in close proximity as YOUR safety is OUR safety.
Bulk collections

12 M 3
5.0m(l) x 2.0m(w) x 1.2m(h)
15 M 3
6.4m(l) x 2.0m(w) x 1.3m(h)

20 M 3
6.4m(l) x 2.2m(w) x 1.7m(h)

25 M 3
6.4m(l) x 2.2m(w) x 1.9m(h)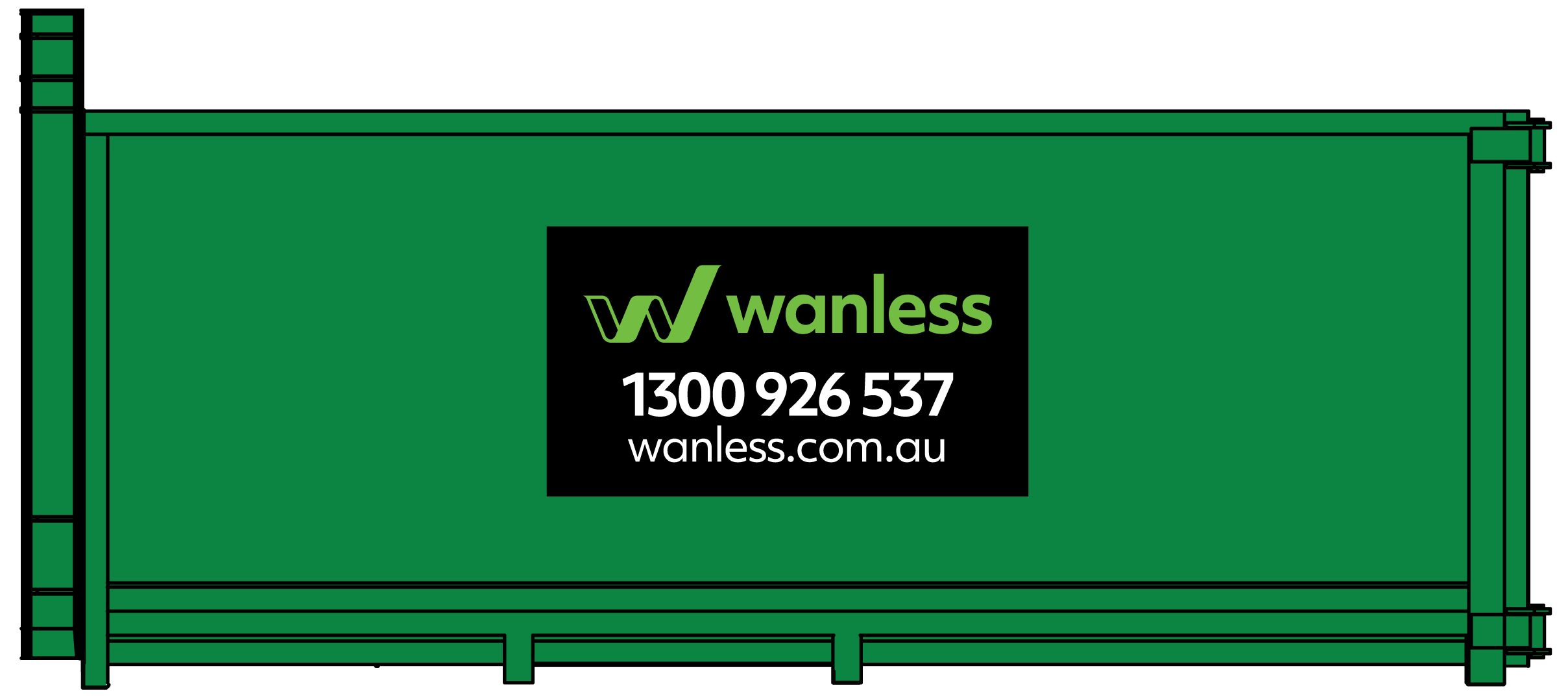 30 M 3
6.5m(l) x 2.4m(w) x 2.3m(h)
Benefits of a Wanless Hook lift Service
Multiple bin sizes to suit your business

'

 waste options. Our range includes 12m, 15m, 20m, 25m & 30m bins

Wanless is flexible when it comes to your service schedules, providing permanent or ad hoc collections

New fleet means less breakdowns, creating a more reliable service performance – meeting the needs of our customers

Large range of services including; general waste, paper & cardboard, product disposal, timber, steel, plastic, electronic waste and hard rubbish
Safety
At Wanless the safety of our customers and employees when handling our equipment is our highest priority that's why we ask you take note of the following at all times:
Don't overload bins, keep all waste level as we cannot safely tarp and transport bins
Place heavier items on top to ensure waste or recycling doesn't blow away when bins are onsite
Be aware of servicing vehicles and other bins onsite
No liquids, aerosols, flammables, asbestos or hazardous wastes are accepted – we can provide a specialist service for those wastes
ALL Wanless bins have safety stickers and a Wanless representative is happy to call out to your business should you have any questions around safety and our services, as YOUR safety is OUR safety.
We understand that maintaining your back of house or external docks to a high level of presentation and hygiene is important as those parts of your may be visible to the public or part of a certification where hygiene standards are regulated – as well as providing wellbeing to those using the bins within your facility. So that standards can be upheld (reducing offensive odours, pests and discomfort for your staff), Wanless offers scheduled or unscheduled bin and compactor cleaning as part of The Wanless Total Waste Management Solution.
So that standards can be upheld reducing offensive odours, pests and discomfort by end users Wanless offers its customers scheduled or unscheduled bin and compactor cleaning as part of The Wanless Total Waste Management Solution.
To ensure Wanless bins are maintained to hygiene standards, they are cleaned inside and out with a citrus based degreaser and rinsed and sanitised with an odour control spray to assist with odour control long after the service. As Wanless is concerned with protecting the environment, we partner with bin cleaning companies in each state through our integrated services model, taking into consideration chemical and water usage whether cleaning is conducted on the client's premises or in our own depots.
Wanless can offer bin cleaning for rear lift, front lift, hook lift and compactors. All prices are on application​
Compactors
Wanless can design specialised compacting equipment built to your businesses waste or recycling volumes, assisting you to save costs and collections as they are compacted and contained in a 12-31m container.
Office clean ups
Hook lift bins are ideal for a regular or annual clean up of your business.
With 1-2 days notice, Wanless can supply you with the right-sized bin to fit in your business' car park or loading bay.
Timber recycling
Hook lift bins are ideal to neatly stack and store recyclable timber or pallets onsite for those customers who produce large volumes.
Wanless can collect and transport timber in bulk to a recycling facility.
Recycling bales
Wanless can transport in bulk bales of cardboard or pallet wrap in hook lift bins to be recycled, maximising your rebates.
Product destruction
Wanless can place hook lift bins onsite to dispose of out-of-code product to be taken for secure burial or to be shredded and recycled. As this is often on demand, we will respond quickly to your business' needs.
Waste management doesn't have to be a burden to your business.
Create real transformation with a Wanless refuse, reduce, reuse, recycle waste management plan
CONTACT US TODAY
Stay up to date with our latest news and events